Company workwear can be almost as crucial to the success of your business as the services you offer or the staff you employ. After all, you might be selling the best thing since sliced bread and employ the finest salesmen to do it, but if they're slovenly dressed, they'll create a poor first impression of your brand and its ethos. Therefore, nailing the uniform is an important priority for any business leader serious about staying one step ahead of the competition.
Selecting your Workwear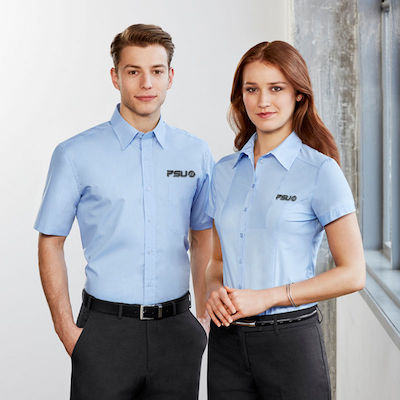 Fortunately, Garment Printing is on hand to help you through this challenging but critical decision. We stock a wide variety of different garments that are suitable for a range of working environments, from offices to warehouses and construction sites to kitchens and everything in between. Whatever kind of clothing you need, we're here to offer premium quality attire that can be fully customised to contain your company's name and logo, resulting in a finished product that allows your staff to perform their responsibilities with the minimum of fuss, all the while portraying a professional image of your business to the general public.
When compiling the items for your company's wardrobe, there are a few things you should consider to ensure you get the decision absolutely correct. Here's a quick rundown of five of the most influential factors which can make all the difference between business success and failure:
1) Trusted brands are integral to success
It's important to remember that the reputation of your company depends upon the quality of the workwear with which you supply your staff, since anyone who comes into contact with them will subconsciously judge the professionalism of your outfit based on theirs. By going with trusted brands such as Premier, Regatta and Russell – all of which are trusted suppliers of workwear items offered by Garment Printing – you can guarantee that their impeccable standing will be reflected in the uniforms your staff wear.
2) Size does matter
It's no good adopting a one-size-fits-all approach when it comes to company workwear, since you're bound to employ staff of all shapes and sizes. Before placing your order, it's imperative that you take detailed measurements of each employee to ensure that you get a snug fit that will create a sophisticated and stylish impression for your workforce. Keep detailed records of the dimensions of every staff member – and which garments have been allocated to them – to ensure everyone gets their appropriate order after delivery.
3) The devil is in the details
As well as sourcing a reputable manufacturer and getting your sizes right, you'll also want to invest sufficient time into designing a uniform that reflects your company's brand and its values. This will obviously involve including the name and logo on the garments in question, but also in a manner that reflects the aesthetic you're trying to achieve. Do you want to create a fun and frivolous impression? Tees emblazoned with loud colours might do the trick. A more professional and elegant aesthetic might call for embroidered polos or Oxford shirts.
4) Consistency is key
Whichever style you opt for, it's imperative that you make sure it's consistent with all your other marketing efforts. The key to establishing your brand as an instantly recognisable entity is reinforcing the company message through repetition of its logo, slogan and colour scheme. Think what the tick has done for Nike or the golden arches for McDonalds and try to emulate that sort of brand consistency in your own uniforms.
5) Safety first!
It might be last on this list, but safety should be the first concern when it comes to choosing workwear for your staff. Certain industries (such as construction sites or road traffic management jobs) require employees to wear personal protective equipment (PPE), including things like hard hats, steel toe cap boots and hi-vis clothing. Find out if you have any legal obligations in this respect and explore our online catalogue of safety-oriented workwear to ensure you have all the bases covered when it comes to keeping your troops safe in the workplace.
Get advice from the experts
Are you still unsure about how to go about ordering a new range of uniforms for your workforce? Our team of experienced professionals are always on hand to lend their insight where it's required. Whether you need advice on which measurements to take to ensure the snuggest fit for your staff or you can't get your head around the different printing techniques we employ to emblazon your company credentials on the finished article of clothing, we're here to help. Simply drop us a line at 0207 101 9315 or fill out our online contact form and we'll provide a response as soon as we can – normally within just 15 minutes during normal working hours. We're waiting to hear from you!