There are many reasons why creating t shirts to support your brand is a great idea, and a profitable one.
The right kind of merchandise and the right kind of t-shirt can connect your brand to your customers and really help them support your brand and show their love for it. A great t-shirt is a classic piece of merchandise, and if you can design something eye catching and memorable that people really want to buy – you'll be onto a winner immediately.
There are lots of reasons to create a branded t-shirt…
Sell your design in store as merchandise
Print t shirts to support a product launch
Have staff wear t shirts as uniforms
Use the t shirts as free promotion gifts at industry events
Use the t shirts to get as much attention for your brand and/or business as possible
Use t shirts as brand recognitions at trade fairs
Use printed t shirts as competition prizes
Whatever the reason, you need a design which is going to stand out from the crowd, a design which is going to grab people's attention and then never let it go again.
T-shirts are ideal for marketing and promotion, if you do it right – so read our tips below about choosing the right design and creating the perfect branded shirt. Visit our case studies to get inspired
TAKE YOUR TIME
Coming up with the best t-shirt design doesn't just happen overnight. You have to create something that you can be proud of, so take your time and don't rush things. You could even get input from other people in your company and have a vote on which design is a firm favourite.Design Online Now
PUT YOUR DESIGN ONTO A T-SHIRT
You'll need to create a visual mockup so you can see what it's going to look like. This is important because some designs might not look as great on a t-shirt, as they look in a design software. Our designers and expert printers can help with this part of the process, and they will also help you ensure you'll checked off all the needed requirements for the design side of things.
DESIGN IS PERFECT, SIMPLICITY IS KING
Most iconic t-shirt designs are designed to push their message in the simplest way. Don't over-think your t-shirt design, take some inspiration from iconic brands and remember the saying 'less is more'. Sometimes something big, bold and simple is better than more detailed or complex designs.
KNOW YOUR AUDIENCE
When designing a t-shirt you should be asking yourself who are you designing it for? Think about who your audience is and what kind of design they would appreciate and enjoy wearing. For example, if you're designing t shirts for children – go for bold, fun designs. For adults, consider the cut and colours you're using and whether your customers would love wearing those selections.
COLOUR, COLOUR, COLOUR
Creating a T-Shirt isn't just about creating the design. You also need to factor in the colour of the t-shirt. Colour is a big deal – it's another way of expressing yourself and it's another way of catching people's attention too! If you can match the colour of the t-shirt to your branding this is a great idea, and works really well giving lots of impact!To learn more take a look at our artwork guidelines
PREPARE YOUR ARTWORK
If you've used certain colours, it's important to know the Pantone code especially if you're using Screen Printing. Our designers can help with this if you're unsure or confused. You just need to get in touch.
CHOOSE THE BEST PRODUCT
It's important you choose the best material and the best colour to match your design and ensure the outcome is perfect.Visit our Tshirts Catalogue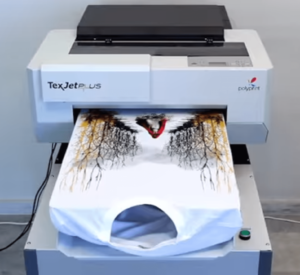 And finally.. FIND A GOOD PRINTER.. MAYBE US!
This is possibly the most important step when you're creating your own T Shirts is finding a printing company who will take care of your order and ensure it is printed to a high quality. This is important because your end product is representing your brand! So you want the best quality possible when it comes to choosing and printing your t shirts!
Our printing experts will guide you through the process, so you can rest assured knowing that your t shirts will look great, feel great, and be loved by your customers too.