With summer nearing its end and autumn just around the corner, it's time to start stocking up on personalised staff uniforms. Regardless of which sector your business may be, make sure your staff have everything they need to survive this seasonal transition. See how you can make your staff stand out this autumn and save yourself a tidy sum by taking advantage of the fantastic offers we have on embroidered polo shirts, custom hoodies, printed jackets and personalised caps!
Embroidered polo shirt
As every product is different, it is important to consider that each has a different price. Take into account the number of positions in addition to the printing technique, this is when things start to become more expensive. Our offers on embroidered polo shirts are subject to the GD040 polo shirt whose personalisation is based on a design no bigger than 12 cm, which would be embroidered onto a polo shirt in any colour. See the amazing price breaks and other generous offers below from which your company can benefit:
Unit Price £5.00 x 50 (£250 ex VAT)!
Unit Price £4.50 x 100 (£4.50 ex VAT)!
Unit Price £3.99 x 250 (997.50 ex VAT)!
Subject to sight of artwork!
FREE Delivery!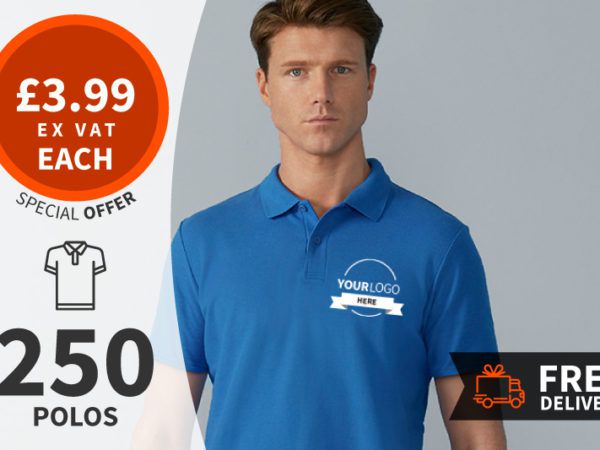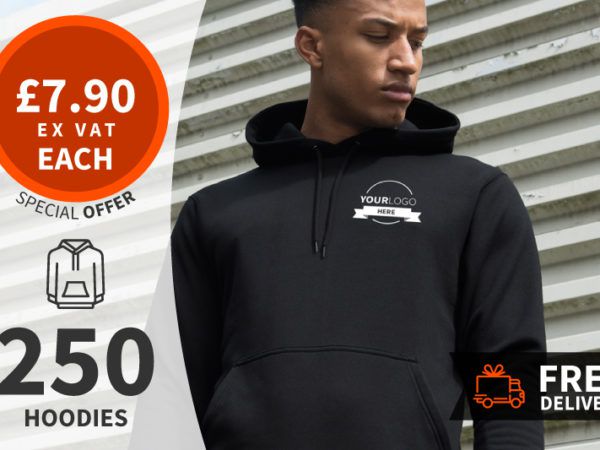 Custom Hoodies
This autumn, our unmissable offer extends to printed hoodies so make sure to make the most of it! The following offer is subject to the JH001 hoodie, whose personalisation is based on one colour screen printing in one position, and this is what we have to offer:
Unit Price £10.25 x 25 (£256.25 ex VAT)!
Unit Price £9.20 x 50 (£460.00 ex VAT)!
Unit Price £8.15 x 100 (£815.00 ex VAT)!
Unit Price £7.90 x 250 (£1,975.00 ex VAT)!
FREE Delivery!
Printed Jackets
Similarly to the personalised caps, we have a great offer on custom jackets. In this case, the offer is applied to the B504F and BA504 jackets from the B&C Collection. These offers are subject to jackets whose personalisation is based on a one colour screen print transfer in one position. It is important to note that prices will increase for any designs including more than one colour, due to the setup costs of the screen printing process. Taking advantage of our amazing offer on personalised jackets means your company will qualify for some amazing benefits such as:
Unit Price £15.70 x 25 (£392.50 ex VAT)!
Unit Price £14.99 x 50 (£749.50 ex VAT)!
Unit Price £14.25 x 100 (£1,425 ex VAT)!
FREE Delivery!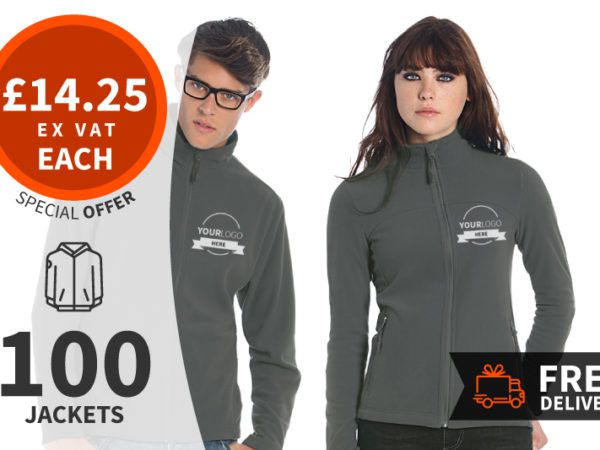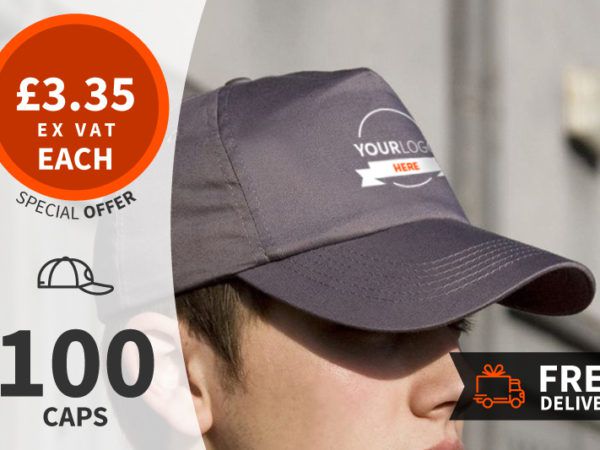 Personalised caps
In addition to the offers on personalised caps, hoodies and jackets, we have another amazing offer to share with you. Our offers on personalised caps are created around the white RC05X, whose personalisation is based on a one colour screen print in one position only, take a look at what the offer includes:
Unit Price £5.50 x 25 (£137.50 ex VAT)!
Unit Price £4.50 x 50 (£225.00 ex VAT)!
Unit Price £3.35 x 100 (£335.00 ex VAT)!
Subject to sight of artwork!
FREE Delivery!
For information regarding any of the services mentioned in the above article or our artwork guidelines, get in touch with our sales team by filling out the form below and they will be more than happy to clarify any doubts and get the printing process under way. Contact us, we will make it happen!
Summer's over, and unfortunately that means it's time to pack your shorts and sunglasses away – you won't be needing those until next year! With that in mind, it's time to dig out those wooly jumpers and welly boots you've been desperate to wear all summer and fully embrace all that autumn brings. At Garment Printing we believe it's important to be prepared and we have the perfect means to ensure your staff are kitted out with all they need to survive this seasonal transition.
The benefits of clothing printing and personalised workwear
Above all within the corporate world, being able to represent your company with personalised workwear brings many advantages:
Personalised clothing helps to identify staff within your company
It creates a sense of group consciousness and helps to work better as a team
It helps clients to identify a company in a more efficient way
It helps improve the company image
It improves sales
So, exactly what elements can be brought together to create the perfect workwear and improve your brand identity?
Personalised caps
At Garment Printing, we want to help you get the best deal possible, which is why the more you buy, the lower the price per unit. Price breaks can be applied to all of our products and it is definitely something to bear in mind when investing in printed uniforms. Take personalised caps for example, as well as being a prominent feature within the restaurant industry, and other fields where a clean image, free from flowing hair, is essential, this small accessory is becoming an increasingly popular addition to staff uniforms across all fields. A personalised cap with your company's logo printed stylishly across the front would definitely help your staff stand out. It is a very visual, fashionable object, and one of the first elements of your staff uniforms that a potential client will notice. Make the right impression with screen printed caps.
So, how exactly would it be beneficial to invest in personalised caps for staff uniforms? Well, like we said earlier, here at Garment Printing we want to help you get the best deal possible. So, say you're a business, and due to regular staff turnover, you have to frequently replenish uniform stock. You order 20 caps every few months, however, if you were to order these in a unit quantity of up to 25, 50 or 100, you would qualify for one of our price breaks, which are an absolute steal, if we do say so ourselves.
Printed Jackets
For us here at Garment Printing it's logical to order everything at once in bulk. Not only does it make sense economically, but also for your peace of mind. Ordering in bulk ahead of time can avoid a great deal of unnecessary stress as you'll always have products in stock and be prepared for any event that springs up at short notice. This will also avoid extra charges for express delivery for last minute orders. In fact, with this offer, you can get your printed products delivered for free! Printed jackets are suitable for any business, whether it be equipping a team of labourers, event staff, public sector workers and even office workers for their commute to work – a printed jacket is always a great choice! It is the perfect investment and addition to staff uniforms, especially when the arrival of autumn and winter is taken into consideration. If you need any more information regarding bulk buying on personalised jackets, contact our sales team here!
Custom hoodies
You're only ever going to pay once for the product you choose to print on, but the price of the print job as a whole can vary quite a bit due to what, how and where you want to print your design. This, in addition to quantity and turnaround time, is an important aspect to consider when investing in autumn clothes printing for staff uniforms. Custom hoodies are the perfect addition to any custom staff uniforms, and it goes without saying that they couldn't be more suitable for autumnal uniforms for hospitality workers, such as waiters and events staff or those who spend their time working outside, say in garden centres and supermarkets. Why not browse our range of custom hoodies!
Embroidered polo shirts
For a more professional look this autumn, embroidered polo shirts are the only way to go. Embroidered garments are expertly selected so that your business can appear professional and provide added value without sacrificing the corporate aesthetic. Polos exude a professional yet casual image. In turn, more and more businesses are requesting this type of garment.
With autumn just around the corner, why not take advantage of our amazing offers on personalised caps, printed jackets, custom hoodies and embroidered polo shirts and get prepared for the coming months. All of our offers are based on the products previously mentioned in the article and are furthermore based on a standard single-print design. In addition, it is also important to remember that the prices mentioned above are excluding tax, so be prepared for the price to rise ever so slightly! Furthermore, all of the above products and offers also qualify for free delivery, so take advantage of these extremely generous offers and save your company a tidy sum on personalised workwear!