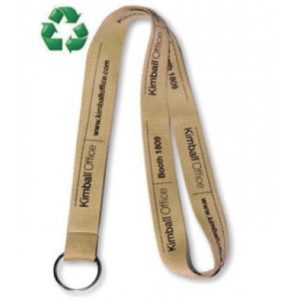 It's been called the single biggest challenge facing humanity by the United Nations. It's responsible for hotter summers, colder winters and more frequent (and more intense!) extreme weather events, such as storms, floods and hurricanes. It dominates the front page headlines and news channels stories all over the world. What are we talking about? Climate change, of course.
If the nations of the world are to fulfil the commitments made at the Paris Climate Summit in 2015 and restrict global warming, it will take a concerted effort on the part of governments, corporations and individuals to bring down our carbon emissions and reduce pollution of the planet. In the world of business, juggling the twin concerns of a healthy bottom line and a healthy environmental profile can be a tricky business, which is why any movement towards helping companies improve their sustainable credentials should be lauded. One such initiative, pioneered by promotional product supplier Preseli, is a range of lanyards which don't impact negatively on the environment.
Lanyards are an integral part of businesses in all industries and in every corner of the globe, but all too often they're made from synthetic materials like polyester, nylon, satin, silk and leather. While the processes which go into making these materials is energy- and resource-intensive on the one hand, they often persist for years in the atmosphere on the other. This makes them a small but highly damaging commodity in an environmental sense.
Eco-Friendly Lanyards
Introducing Preseli's new stock Eco-Lanyard range, comprised of an array of different lanyards of varying lengths and constructed from a selection of different materials – but all of which constitute a sustainable alternative to the traditional textiles mentioned above. Customers can choose from the following options:
Recycled PET. Polyethylene Terephthalate – better known as PET for short – is most recognisable as the clear plastic used to make single-use water bottles. Petroleum-based, PET is lightweight and highly flexible, as well as being completely recyclable. All of Preseli's PET Eco-Lanyards are made from 100% recycled materials.
Plant silk. In the agricultural process, the stems of grain crops often go to waste. By recycling these stems, grinding them down into fine fibres and weaving them into a delicate silk, Preseli are successfully repurposing a resource that would normally go to waste and creating a lanyard made from sustainable materials, all in one fell swoop.
Bamboo. As a plant that's carbon neutral, highly efficient in its consumption of water and rapid in its regeneration, bamboo is the ideal raw ingredient to create fabrics from. Though incredibly strong in its untreated state, it can be processed to retain that durability but achieve a softness of texture that makes it an eco-friendly choice for lanyards.
Hemp. Given that it produces a substantially higher yield of fibre per acre than either cotton or flax, hemp is often regarded as one of the most environmentally-friendly textiles on the planet. It has been used for centuries to create ropes and sails in the fishing industry, hemp is now being viewed as a sustainable solution for a variety of other purposes, too.
Organic cotton. Non-organic cotton is often vilified as one of the most polluting crops on Earth, but its organic counterpart is a whole different kettle of fish. Organic cotton uses far less water than non-organic, while it's also kinder on the soil and doesn't require spraying of damaging pesticides on the surrounding vegetation.
All of the above options come in a variety of lengths and colours, including the use of dye sublimation techniques to replicate any colour scheme and pattern. What's more, Garment Printing employ a number of sophisticated printing methods to ensure that your company name and logo is emblazoned on the lanyard with precision accuracy, resulting in an end product that looks fantastic and doesn't harm the environment while doing so.
Lanyards for your Business
Available in 10mm, 15mm, 20mm and 25mm size variations, the Eco-Lanyards are the ideal solution for any business which prioritises quality products and sustainable performance in equal measure. Whether you need the lanyards for office use, conferences, trade fairs, sporting events or music festivals, the extensive catalogue on offer from Preseli at our website are sure to satisfy your needs.
Not sure which size or material is best for you? No problem. We're well-versed in all aspects of bespoke lanyard creation, having garnered many years of experience in the sector, so we can provide any insight and advice you might need. Just fill out our online form or give us a call on 0207 101 9315 and we'll get back to at our earliest convenience – which is normally within 15 minutes during weekday working hours. We're here to help!