You should never underestimate the importance of brand consistency. World famous logos such as the McDonald's golden arches, the Nike tick or the Apple apple are precisely so recognisable because their parent companies have gone to painstaking effort to ensure they appear in exactly the same font, colour and layout every single time. It's an ideal you should endeavour to replicate when it comes to your own business.
That includes establishing a colour scheme and style synonymous with your company and replicating it across channels, from online advertisements to brick-and-mortar storefronts to the uniforms worn by your employees. Indeed, as living, breathing representatives of your organisation, ensuring your workforce is on the same page as you in terms of their comportment and their appearance is paramount to creating a good impression among the wider public. That's especially true when your staff spend much of their time outdoors, where they're likely to be seen with greater frequency by those unconnected with or unaware of your company and its products and services.
Embroidered Fleeces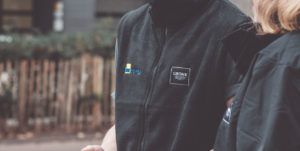 Kitting out your staff in high-quality winter wear is a recommended course of action for a number of reasons. For starters, a warm and comfortable fleece from Garment Printing will keep employees protected against the icy blasts and bracing winds of the Great British climate, ensuring they're capable of performing their duties without risk of illness. What's more, the ability to choose from a range of different colours and makes affords you the opportunity to tailor the fleece to your company's brand, enhancing consistency and increasing the sense of professionalism exuded by your employees as they go about their business. With plenty of room on the back, breast and arms to display your company name, logo and other information, branded fleeces are the ideal opportunity to raise awareness surrounding your enterprise and achieve that all-important brand consistency at the same time.
There's something about embroidered designs which seems to elevate them above other forms of printing and inking. Maybe it's the time and effort which go into creating the design; perhaps it's the quality of the materials used in doing so. Whatever the reason, an embroidered fleece from Garment Printing, with colours matched to those sported by your brand, is sure to turn heads and start tongues wagging about your company for all the right reasons. The sophisticated embroidery techniques we use allow us to replicate any lettering, font or artwork you desire in the colour you require. What's more, your employees will appreciate a quality piece of clothing in which to perform their duties, as well, resulting in satisfied parties all across the board.
Make your Logo Stand Out
We stock a number of different styles of fleece, from those intended specifically for male or female use to those designed with a unisex purpose in mind – or even those made for children. From zippered fleeces to half-zip fleeces and from sleeveless gilets to body-warmers, we're sure to have a model in stock that suits your purpose. Since our fleeces are supplied by reputable companies such as Fruit of the Loom, Russell and B&C Beechfield, you can rest assured you'll be getting a product that's at the cutting edge of fashion, but which doesn't sacrifice durability for design.
All fleeces sold by Garment Printing are manufactured using the best materials and engineered to last the test of time, clothing your workforce and keeping them warm for many moons to come. Kitting out your team in cosy, comfortable workwear doesn't necessarily need to be an expensive undertaking, either. We offer generous discounts on bulk orders, meaning you can obtain a complete range of uniforms suitable for colder temperature at a price which won't break the bank.
With so many options on offer, it can be a little confusing to know exactly which style will suit your company's aesthetic most appropriately. Don't worry – our team of friendly and knowledgeable professionals have years of experience in matching the right product to the right customer and we'd be happy to lend our expertise to you as well. Simply give us a call on 0207 101 9315 or fill out our online contact form and we'll get back to you as soon as we're able to. That's normally within a quarter of an hour during working hours! What are you waiting for? Get in touch and place your order for a batch of stunning embroidered fleeces today.