Depending on the industry you work in and the habits you keep in your daily routine, hi-vis clothing may be of paramount importance to you. For anyone working in an environment where there are hazards and risks – especially those involving vehicles – hi-vis is not just important, it's essential.
In fact, all construction sites, factories and other workplaces which have moving vehicles in operation are required by law to implement and adhere to a hi-vis clothing policy. Depending on the type of site in question, this may demand different items of hi-vis clothing and variable levels of hi-vis certification. Fortunately, the obligation is a very easy one to fulfil, since ordering hi-vis company workwear can be achieved with just a few simple clicks of the mouse.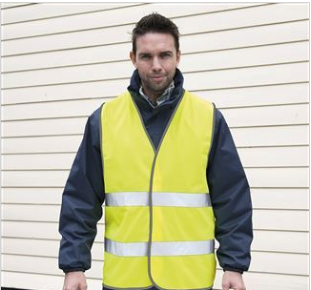 Of course, it's not just in professional situations where hi-vis clothing might be important to you. Cyclists, motorcyclists or anyone likely to be near fast-moving traffic in low-level light conditions (even parents taking their kids to school in the dark December mornings) may wish to benefit from the additional visibility offered by hi-vis clothing.
How does hi-vis clothing work?
Hi-vis clothing is manufactured from retroreflective materials which allow the garment to direct all incoming light into a single channel of vision. The most popular kind of fabric used to make hi-vis clothing is known as Scotchlite, which uses sophisticated means of manipulating light streams to achieve the above effect. For simplicity's sake, the easiest way to understand how hi-vis clothing works is to imagine a garment constructed out of the cat's eyes found on roads and motorways which allow road users to see markings and divisions late at night.
Who must wear hi-vis clothing?
There are a wide variety of different industries in which hi-vis clothing is appropriate, and for many of them it is actually obligatory. Places such as construction sites, airport runways, traffic management systems and roadworks are all examples of situations where hi-vis clothing is necessary.
ISO 20471 is the name given to the international laws which govern who must wear hi-vis clothing, in what situation and of what strength. Within ISO 20471, there are three different tiers of hi-vis, which are as follows:
Class 1 – Class 1 accreditation applies to industries and scenarios where visibility is impaired to a slight degree and hi-vis clothing is preferable but not required by law. This includes off-road environments where traffic does not pose a threat to human life. In this accreditation, the garments must have bands of retroreflective material that are 50mm or greater in width, while the background area must be 0.14m2 or more and the reflective surface area must be 0.1m2 or more.
Class 2 – Class 2 accreditation applies to working environments on or nearby standard roads which see moderate traffic, or in other situations where there is a tangible risk. The bands must be 50mm or greater in width, while the background surface area cannot be smaller than 0.5m2 and the reflective surface area must be no less than 0.13m2.
Class 3 – Class 3 accreditation offers the highest level of protection and is reserved for those working on or nearby motorways, dual carriageways or other thoroughfares where traffic moves rapidly. The bands must be 50mm or greater in width, while the background area must 0.8m2 or more and the reflective surface area must be equal to or greater than 0.2m2.
In any working scenario where hi-vis clothing is required by law, it is the responsibility of the employer to equip their staff with the requisite garments. They are also obliged to pay for this clothing out of the company's finances.
Other situations where hi-vis clothing is used
Aside from those working in professional environments with low-light conditions, hi-vis clothing is a preferred option for cyclists and motorcyclists, as well. Indeed, according to studies, motorcyclists wearing fluorescent or hi-vis clothing were 37% less likely to sustain crash-related injuries than those who did not. Therefore, wearing hi-vis clothing is a good idea for anyone riding motorcycles, powered two wheelers (PTWs) or even bicycles, since it could be the difference between life and death.
Additionally, anyone working in a position of authority (such as security guards, crowd liaison management or emergency services personnel, for example) often wears a hi-vis clothing to establish confidence in their position and make them easily visible to those looking for advice or help. Elsewhere, even ordinary citizens who routinely walk outdoors in the early morning or late evening (especially during winter months, when the days are shorter and nights are longer) can benefit from wearing hi-vis apparel. This is particularly true for younger children who walk to school and whose uniforms are often dark in appearance.
Hi-vis clothing from Garment Printing
At Garment Printing, we offer a wide range of different hi-vis clothing options, from standard tunics and vests to t shirts, trousers, hoodies and coveralls. Whatever situation you have in mind and whatever your unique requirements, we're certain to have an option that fits the bill.
All of our attire is fully customisable as well, meaning those looking to purchase hi-vis clothing for corporate purposes can have the company name and logo emblazoned upon the garment. This not only marks out the piece of clothing as property of your business, but also raises its profile among the general public and creates a more professional impression of your staff.
Why not check out our online catalogue today? Your new hi-vis clothing is just a few clicks away.