For managers, CEOs and other high-level decision-makers in any industry, the uniform of their workforce is of critical importance when establishing their brand. On the one hand, they must ensure they clothe their employees in a uniform that will portray an aura of professionalism and inspire confidence in potential customers. On the other, balancing the books is an inescapable priority, especially for smaller companies with limited resources.
How can you make sure your profit margins aren't affected and that you remain with your means, without sacrificing the quality and stylishness of your staff uniforms? With Garment Printing, that's how. Our extensive online catalogue has a range of work-appropriate attire for any industry, all made to the highest of standards and available at affordable prices. What's more, if you approach the situation in the right manner, you can actually make your workwear garments work for you, rather than vice versa, turning them from a costly obligation into a lucrative asset.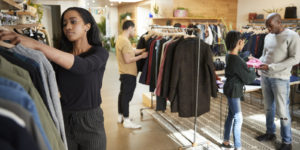 Choosing your Garments
Keen to kit out your workforce and leverage the awesome power of their uniforms for your business gain? Here are a handful of areas in which you can minimise the costs of the outlay in the first place, while reaping plentiful benefits from your investment are the fact.
Advertising ambassadors
After acquiring a complete wardrobe of workwear, your employees will soon double up as brand ambassadors, too. By wearing a uniform emblazoned with your company name and logo while they go about their duties – as well as on their way to and from their place of work – they'll serve as walking billboards geared towards raising your company's profile. If you include garments that can be worn outside of work (such as t shirts, hoodies, insulated jackets and knitwear accessories) in your order, you'll also encourage them to continue representing your company and boosting its marketing power in their free time, too.
Splitting costs
When working out how much you can allocate to cover the costs of your uniform outlay, it can help to evaluate the various benefits that the expense will deliver. For example, the advertising potential mentioned above means that you could justify apportioning part of your marketing budget for the uniforms, while there are also strong cases to be made for human resources and health and safety, too. By drawing smaller amounts from several different pots, you can avoid exhausting any single one, helping to make ends meet and manage finances shrewdly.
Prestige by association
Another advantage of buying your uniforms from Garment Printing is the quality of our suppliers and the prestige associated with them. By equipping your staff with Oxford and poplin shirts from well-known companies like Fruit of the Loom, heavier duty work overalls, trousers and hi-vis jackets from a household name like Dickies and all your other workwear needs from reputable labels such as Premier, Regatta and Russell, you'll ensure you're getting garments engineered to perform flawlessly and stand the test of time. What's more, by using such famous names, you can subconsciously associate your own company alongside them in the minds of your target market.
Brand consistency
Thanks to the widespread range of garments, styles and sizes we offer, you can be sure to settle upon the uniform that matches your brand's ethos completely. That's applicable to the impression that it creates in terms of its aesthetic, but also with regard to the specific colours used – our extensive palette means that it's highly likely we can match your company logo with impeccable precision. What's more, you can even use our award-winning customisation tool to let you visualise how the garment will look before committing. That kind of brand consistency is worth its weight in gold when trying to forge your company's identity in a highly competitive modern-day marketplace.
Budget by buying in bulk
For companies of even a moderate size, uniform purchase orders can quickly become quite substantial. It's highly likely that you'll want to order more than one unit per employee, as well as excess stock to keep in storage for when new members inevitably join the team as your company develops and expands. The good news is that we at Garment Printing offer generous discounts when you buy in bulk, meaning you can take care of the concern for the foreseeable future and make significant savings on the outlay, all at the same time.
Sell excess stock
Of course, a consequence of taking advantage of bulk buy discounts is that you may end up with more garments than needed. One way to turn this challenge into an opportunity is by converting them from uniforms into merchandise! This is a particularly effective method for those working in hospitality, sports or any other industry which demands a large amount of attention from the general public, but can work just as well in a number of lower-key ones, too. Simply advertise the stock as authentic merchandise and you've converted a dead asset into a live and kicking one.