Yes, that's right – B&C Collection are dropping more products we can customise for you. Be spoilt for choice as you can pick from 6 premium styles! From crew neck, to king/queen hooded, to king/queen zipped hood, you won't be disappointed with this selection. Great quality, 80% pre shrunk ring-spun combed cotton ensuring the products satisfy your needs, these sweatshirts personalised with screen printing or embroidery will keep your business looking bold and stylish! The sizes range from XS – 4XL so we'll make sure you can involve everyone in your team with our garments.
B&C Sweatshirts
For the eco-friendly consumers, we haven't forgotten about you! 6 of the new customised selections are made of organic cotton! For example, the organic hoodie has a brushed fleece inside so you'll always be kept warm and comfortable. This is practical if your business requires being outdoors often. The personalised hoodie is made of 80% pre-shrunk ring-spun combed OCS organic cotton and 20% RCS recycled polyester. The material is certified by STANDARD100 by OEKO-TEX for the best comfort of your skin! It's available in 20 fascinating colours appropriate for men and women, such as sage blue and magenta pink. You can be sure to find the best matched colour hoodie that suits your preference.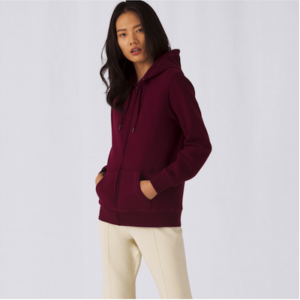 As it has a smooth surface, it means the printability is of great quality. We can be sure of this as it has been tested and approved for all printing techniques applicable on cotton. To enhance our eco-friendly approach, we can print using our waterproof sustainable screen printing technique! The B&C Organic Hooded garment's features include: pockets placed in the side seams to allow maximum front decoration surface area, side seams to ensure the best fit and a masculine silhouette, inside jersey lined hood, qualitative herringbone neck tape and fashionable drawcord. To allow full customisation, there is a half-moon in the back of the single jersey to allow easy branding as well as B&C No Label Solution. So what are you waiting for? Hurry and add your business logo to our trendy retail fashion oriented looking hooded sweatshirt now!
Zipped Sweatshirts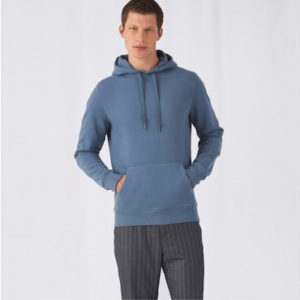 Zipped hoodies add versatility. They can easily transition your looks, wearing it zipped up or down or easily taken off, however you prefer! For that reason, we are excited to customise the King/Queen Zipped Hoodies for your business
available in 10 different colours! Another brushed inside fleece product to keep you warm and cosy. The luxurious personalised hoodie ensures exceptional softness, modern style and supreme printability. It is truly durable thanks to its single jersey lined hood and comfortable thanks to its B&C PST technology and its polyester filament!
The elegant, luxurious personalised hooded sweatshirt has some great features. These include: side seamed style to ensure the best fit and masculine/feminine silhouette, identical colours for men and women, flat laced drawstrings with luxurious metal tips, qualitative long-lasting neck tape, covered metal zip and finally a single jersey half-moon in the back for premium look and extra durability! Yet another fantastic product that your business needs to get hold of!
Be sure to click here to see the 2020 New B&C Collection of the Royal Sweatshirts worn by styled!
Don't miss out on helping shape your business with our top quality colourful new personalised collection! We can't wait to offer you our best service yet to experience.