Let's face it: the UK is famous for many things, but its favourable climate is not one of them. While the sun can put in a memorable appearance during the summer months, the mercury tends to drop quite rapidly in winter, while spring and autumn are mixed bags when anything can happen. And that's even before we've begun to consideration precipitation!
Bearing in mind that variability, it can be difficult to know how to prepare yourself against the elements when they keep shifting the goalposts every five minutes. But according to that famous maxim popular among northern hemispheric countries, there's no such thing as bad weather, only unsuitable clothing… so why not equip yourself for every eventuality with the 3 in 1 parka jacket from B&C? This versatile outerwear garment combines top-quality materials with stunning design to provide a warm and weatherproof option for any occasion.
Parka by B&C
The outer layer is a critical seam-sealed hard-shell jacket with a fully adjustable hood that's guaranteed to keep you safe from rain, wind, snow and whatever else Mother Nature decides to throw your way. Waterproof up to 5,000mm, it's perfect for staying dry when the heavens open, with the ultra-protective hood capable of warding off even the strongest of downpours. When the rain clouds clear, that hood can be stowed discreetly inside the standing collar, with its ergonomic design ensuring it won't cause inconvenience when not in use. The collar itself provides outstanding protection against strong winds on the neck and shoulders, complete with studs and cuffs for securing when the wind really picks up.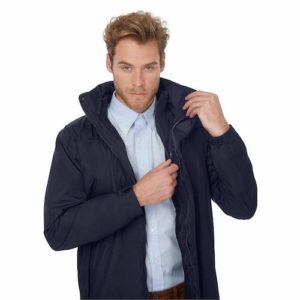 The rest of the outer jacket is equally impressive. Featuring a longer cut, the shell jacket is perfect for wearing over a suit and will conceal your upper torso entirely, complementing your stylish aesthetic beneath. The bottom hem is equipped with a drawstring for full customisability, while the ergonomic sleeve design also allows for easy adjustment to your own personal taste. Its inner lining features diamond mesh technology to enhance breathability and comfort, while the outer surface is perfect for adorning with your own design. Advanced modern printing techniques mean that virtually any artwork, images or lettering can be accommodated, making the parka perfect for purposes both commercial and personal. The two hand pockets and front chest pocket are all ideally situated for easy access, with high-quality SBS zips ensuring they last the test of time and affording you plenty of storage space on your person.
Meanwhile, the inner layer of the 3 in 1 jacket is an anti-pilling microfibre fleece, ideal for adding extra warmth when those crisp winter temperatures really begin to bite. The fleece itself can easily be removed by a 5-point changing system, with SBS zips keeping it in place or making detachment a doddle when necessary. Indeed, the fleece is stylish and warm enough to wear as a standalone item, meaning the parka really is a 3 in 1 solution for all seasons. Humid but showery? Perhaps the outer layer alone will suffice. Freezing but dry? Go with the fleece alone. All of the above? Combine both component parts to create a parka jacket that'll keep you warm, dry and ready for whatever the day has in store.
The 3 in 1 parka jacket from B&C is the perfect branding opportunity for your business, given its chic contemporary look, ultra-functional appeal and ample decorative space on the back, breast and arms. Ideal for distribution among employees who work in more extreme climates or as part of a special event taking place in colder, wetter temperatures, the parka is a perfect corporate solution which marries functionality and finesse with affordability and incredible branding opportunities in one suave package.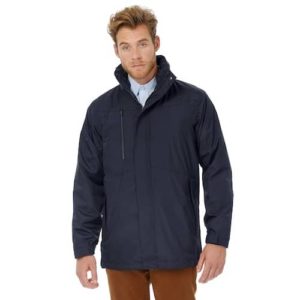 Alternatively, it's equally suited for use among private individuals for use when walking the dog, attending a sports event or rambling among the hills and valleys of the Great British countryside. Whatever your peculiar al fresco passion, the B&C 3 in 1 parka will serve you well for many moons to come, regardless of how accurate the weather forecast proves to be on any particular occasion. It's the Swiss Army Knife of outerwear, making it ideal for unpredictable climates like ours.
As an item of clothing that combines incredible practicality with unbeatable panache and unique customisation opportunities, the 3 in 1 parka jacket from B&C is one fashion accessory you can hardly afford to do without. For more information or to obtain a quote on discounted bulk buys, simply get in touch via our online form or give us a call on 0207 101 9315 and we'll take things from there. We do our utmost to respond to all queries within 15 minutes during business hours, so get in touch today!