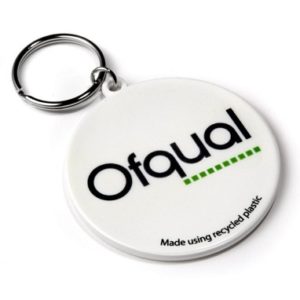 Using branded merchandise to promote a business is a tried and tested technique that has helped countless companies spread the word about their services and expand their customer base. As one of the founding members of the corporate giveaway scene, keyrings have consistently ranked among the top 10 most popular promotional items for decades. Small, lightweight, affordable and incredibly practical, it's not difficult to understand the secret of their success.
Using Keyrings to Promote your Company
That being said, incorporating keyrings into your marketing strategy is only the first step to expanding your outreach and it shouldn't be expected that ordering a truckload of branded items alone will ensure you see a substantial return on investment. Given that keyrings are a relatively inexpensive item, the initial outlay should not be too great or too difficult to recoup, but there are certainly some measures you can take to optimise their performance and make sure they create the maximum impact among prospective customers, existing clientele and indeed your own workforce. Here are a handful of ideas on how to use keyrings in business to market your brand and increase its exposure:
Attract attention
A keyring which goes unseen is an ineffective marketing tool. Given their popularity, promotional keychains are everywhere these days, meaning you'll need to think outside of the box in order to make your product stand out from the crowd. Consider using an eye-catching design or clever slogan; in fact, emblazoning it with a conversation-starting question or riddle could be an ingenious way to draw attention to the item and provoke discussion of your company among all who see it.
Encourage interaction
Once you have that attention, capitalise on it! Direct the person viewing the keyring to a website or social media page where they can learn more about your company and what it offers by including details of your address, phone number and other key contact information on the keyring itself. Running with the riddle idea mentioned above, you could even stimulate their curiosity and then promise to satisfy it with an answer that can only be found online.
Customise for your customers
These days, the wonders of modern manufacturing means that you can create a keyring in all kinds of shapes and sizes. Leverage that ability by adapting the design of your item to the audience you are aiming to address. For example, those operating in the real estate market might prefer a house-shaped keyring, those in fitness a ball of some sort, while simple but sophisticated designs might remain the most preferable choice for corporate clients.
Choose your material carefully
Just as the shape and size of a keyring can be fully customised, so too can the material from which it is crafted. Plastic key chains are invariably the most affordable, so these might be ideal for mass giveaways at trade shows or other business events. On the other hand, leather, steel or keyrings made from precious metals add prestige and panache to your brand, so reserve those for favourite clients or high-value prospects. Tailor your material to your target and you can't go wrong.
Add value
Since keyrings are such a useful item, it's highly likely that the recipient of your corporate giveaway will already be in possession of one which they use on a daily basis. How are you going to convince them to substitute yours for the one they already rely upon? By adding value. This can come in the shape of a particularly attractive design, but most often takes the form of an additional clip-on item such as a bottle opener, USB stick, tiny torch or miniature tape measure. Additional functional increases desirability and makes it more likely your product will see regular usage.
Get the packaging pitch perfect
After spending all that time in tweaking the design and tailoring your giveaways to the individuals you wish to target, it would be a crying shame to lose the power of your promotional item through shoddy or non-existent packaging. Especially important when gifting a keyring to those high-value recipients mentioned above, an elegant box can make all the difference in distinguishing the item as sought-after or ten-a-penny.
Issue to employees
One final method of increasing brand exposure that is often overlooked by those conducting corporate giveaway campaigns is distributing to your own workforce. If you issue each employee with a company-branded keyring and encourage them to use it immediately, you're effectively sending out tens, hundreds or even thousands of miniature mobile billboards into the world in one go. Not only that, but you'll also help to cement employee loyalty and enhance their impression of your company's ethos.