Small in stature but highly effective at their job, stress balls are the perfect office accessory. Regardless of the industry in which they operate, everyone can benefit from the anxiety-relieving properties of these diminutive little balls. Given their intrinsic link to the world of work, they make an excellent promotional giveaway item and have been leveraged by companies looking to expand their brand for decades now.
Don't fall behind the competition – jump on board the stress ball bandwagon and incorporate them into your marketing strategy as soon as possible. Not sure of where to start or how to go about it? Not to worry. This handy guide contains pointers and ideas on how to make the most of stress balls and optimise the effect they have on your customer outreach, brand exposure and profit margins through a few simple steps. Read on to find out more.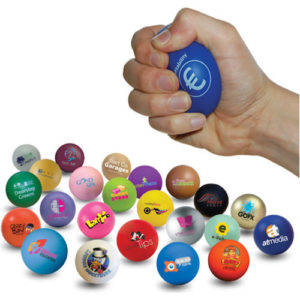 Tailor Stress balls to your targeted audience
At their inception, stress balls were exactly that – spherical objects which could be squeezed and squished to relieve tension. Nowadays, modern manufacturing techniques mean that they no longer are restricted to round dimensions; indeed, you can customise the shape and design of a stress ball to create it in virtually any form you like. In the automotive business? A car-shaped stress ball might be best for your customer base. Sports retailer? Footballs, tennis balls and other sporty orbs are a good choice. Furniture manufacturer? Why not craft a squeezable sofa? Tailoring the appearance of the stress ball to coincide with the industry in which you operate will reinforce their impact.
Encourage interaction
Stress balls are small enough to be practical and convenient, but large enough to allow plenty of room for decoration on their sides. Emblazoning them with your company name and logo is a given, but should represent the minimum benchmark when considering what kind of design you wish to follow. Perhaps the inclusion of your website, social media handle or other contact information could be a positive method of encouraging them to take steps to learn more about your enterprise and the products and services it offers. Don't go overboard, but don't pass up this opportunity to communicate vital information to a potential customer who will view it on a regular basis.
Take them to business meetings
Securing a face-to-face meeting with a potential business partner is the all-important foot in the door when nailing down a sale or signing a lucrative contract. It's likely that a multitude of emails, phone calls and other buttering-up efforts went into the engineering the encounter, so ensure you make the most of it by creating a lasting impression. Personal manner is of course instrumental in doing so, but even a hugely positive meeting will fade from memory over time. A three-dimensional item – like a stress ball – will sit on their desk for months or even years, serving as a perpetual reminder of the success of the initial encounter.

Distribute them at trade fairs
Trade shows, business conferences and other corporate occasions are the ideal opportunity to showcase your company and get its name out there. Freebies are rife at these kinds of affairs and it's no mystery why stress balls consistently rank among the most popular promotional items on offer; small, affordable and useful, they're a great way to infiltrate an office and create a buzz around your company. Don't miss out – take a truck full of stress balls to the next event you attend and hand them out to all comers.
Include them in promo bundles
Again, the petite dimensions of a stress ball make them the ideal addition to a promotional bundle of goodies and freebies that you can distribute to favourite clients and would-be customers. Alongside other classics of the corporate giveaway scene such as mugs, pens and caps, stress balls can provide those whom you give them to with a reason to value your company and serve as a constant reminder of its credentials. For added impact, consider sending them to individuals who purchase a ticket to an event you're hosting as a thank you for their interest.
Offer them in exchange for contact info
People love to get something for free and will often think nothing of gifting you their name, email address, phone number and other personal data in order to do so. For companies which are just starting out and haven't yet built up a sizable customer database, the opportunity to lengthen the mailing list and access hundreds or even thousands of new leads should not be passed up. Given their affordability and portability, stress balls make a cost-effective giveaway that pays for itself in the shape of the personal data it returns to you.