If you have feet, it's almost guaranteed that you own a pair of socks. And if you're the average working professional with an active lifestyle, it's even more likely that you have a sock drawer, and a preference when it comes to the types of socks you'll wear. In this article, we discuss the 7 most popular sock styles according to length. And thereafter, we dive into the 5 categories of the best socks to personalise.
Popular Types of Sock Styles According to Length
Depending on who you are, the kind of work you do, and the types of social or exercise activities you participate in, you've probably reached the point where you have a preference for the types of socks you wear. 
Here are seven of the most popular types of socks styles listed in order of length:
No-Show Socks 
More popular with women, no-show socks are that hit just below the ankle and are worn on both formal and informal occasions. Women generally wear no-show socks with dressy flats in more formal settings, whereas men typically wear them with casual outfits. 
Ankle Socks 
For many, ankle socks are the only types of socks they'll wear. Why? They're said to be the perfect balance between the no-show and the crew length sock. Ankle socks are versatile, comfortable, and go with just about everything. They started as a sock commonly worn for athletic activities, but today just about everyone owns at least a pair or three. 
Crew Length Socks 
Do you know those novelty socks that were incredibly trendy a few years back? More often than not, these are crew-length socks. Crew-style socks are a classic cut that hits just below the middle calf. The crew sock is available in a variety of sub-styles. For example, crew-length dress socks are perfect for everyday workwear, but if you're going on a hike a thicker moisture-wicking crew sock is a better option. 
Mid-Calf Length Socks 
The sock of choice for winter, mid-calf socks are the perfect length for keeping both your legs and feet warm, and they pair well with sneakers, boots and loafers. Originally regarded as a more formal sock, today mid-calf socks are seen as fitting for both formal and casual occasions. 
Knee-High Socks
More popular among women, knee-high socks are the sock version of the original dressier knee-high stocking. The perfect match for a pair of tall boots, and just as perfect for lazing around the house on a winter's weekend, knee-high socks are warm and, well, cute. 
Over-the-Knee Socks
Commonly paired with boots, over-the-knee socks are generally made from wool and typically only worn in the colder months. 
Thigh-High Socks
A true fashion statement, thigh-high socks are tall socks that extend all the way up the thigh and bear an extra tight elastic to ensure that they stay up. The thigh-high sock is almost exclusively bought by women and worn on dressier occasions.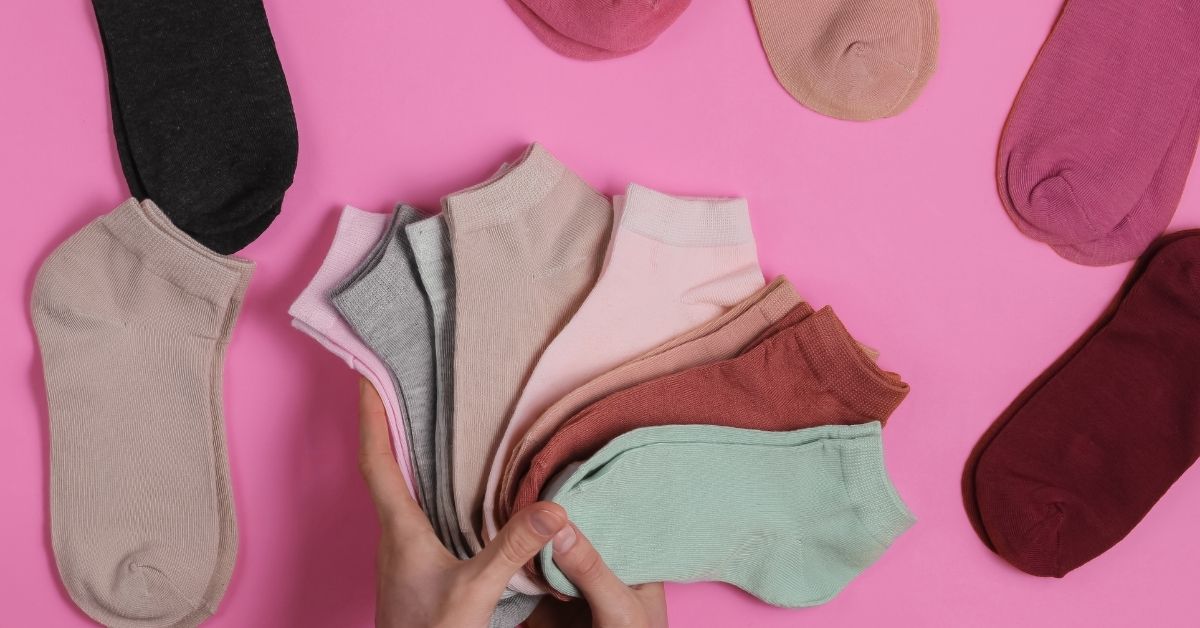 Types of socks to personalise according to the occasion
1. Hiking & Walking Socks
Walking and hiking socks are one and the same. These socks are designed to provide extra cushioning and support to both the front and the heel of the foot. This cushioning also increases the durability of the socks, meaning your favourite pair will last longer. 
2. Work Socks 
Since they're for wearing for the long hours between 9 am and 5 pm, the most important quality of work socks is that they're comfortable, durable and moisture-wicking especially for the summer months. Two of the most common types of socks for work are:
Dress Socks: thinner and more lightweight than casual or athletic socks, dress socks are longer and solid in single pairs as opposed to multi-packs. Dress socks sometimes have a slight sheen to them.
Boot Socks: the kind of socks suitable for wearing with boots. Nine times out of ten boot socks are made of a knitted material making them warm and perfect for pairing with your favourite winter boots.Hiking & Walking Socks. Our best work sock to personalise: 
3. Winter Socks 
Aside from those required for physical activity, socks are typically worn more in the winter months. This in mind, your average pair might not cut it when it comes to keeping your feet warm throughout the snowy season. These are the three things you should consider when choosing the perfect pair of winter socks: 
Are they warm? Socks made of knitted fabrics tend to be warmer than most. If you're allergic to natural wool, consider choosing something synthetic. 
Are they thick? When it comes to keeping your feet warm, the thicker the sock the better.
Are they thermal? Depending on your geographical location, thermal socks may come in handy. The best thermal socks are made of materials specifically designed to keep the heat in. Our best winter sock to personalise is:
4. Gym Socks
When it comes to gyming, the clothing requirements are fairly similar to that of sporting attire, although they may be slightly toned down. The best gyms socks are those that contain cushioning on the toes, forefeet, and heels as these are friction-prone areas. Three sub-styles of gym socks include:
Trainer Socks: designed to be worn with training shoes, trainer socks are low-cut and very similar to ankle socks. In fact, the main difference between the two kinds of socks is that trainer socks are a lot more durable and exist for endurance purposes. 
Running Socks: made specifically for running, these socks contain fibres that are designed to wick moisture away from the foot. Good moisture-wicking socks dry quickly too. 
Yoga Socks: also known as grip socks and commonly used for pilates as well as yoga, yoga socks are durable, moisture-wicking and made from material with extra grip. Our best running sock to personalise is:
5. Sports Socks 
Made to protect your feet from the elements, pressure and impact, sports socks are worn by and beneficial to a variety of athletes. Two sub-styles of sports socks include: 
Football Socks: worn by football or soccer players, these socks are padded and designed to protect whilst providing grip and comfort throughout a match.
Cycling Socks: worn by cyclists, these are socks that provide comfort and improved contact with the cyclist's shoe. Our best sport sock to personalise is:
There you have it, just about everything you should know about personalised socks when deciding on the perfect pair to personalise. Contact us today for a quick quote and get yourself one step closer to making your feet happier than ever. Feel free to browse through our personalised clothing catalogue to find an additional clothing item to match with your socks.