Screen printing is one of the most simple and popular printing processes out there. Screen printing has been around for thousands of years, and it doesn't look like it's going anywhere anytime soon. Don't believe us? Well, the screen printing process can be traced back to the silk-screen stencil which is believed to have been invented in Asia, as far back as A.D. 500.
But the techniques and the materials change with time, and now, as well as the traditional water-based inks, there are also plastisol inks too.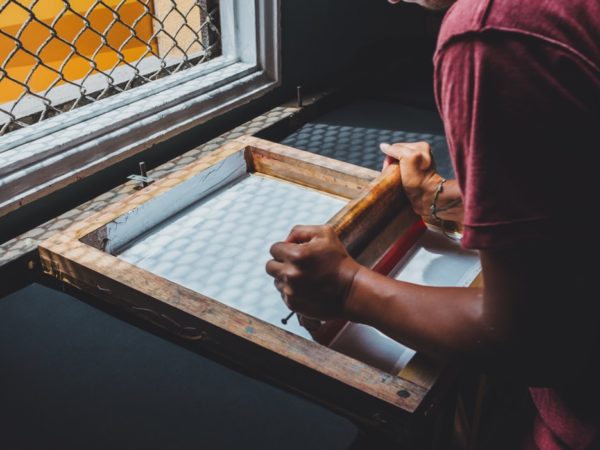 So what is the difference between water-based screen printing and plastisol?
Both are common inks being used in fabric printing, and you'll have probably come across both on items in shops, and even your own wardrobe.
As the name suggests, water-based inks are made primarily with water. This means they're mainly water based, and don't contain any elements like plastics or PVC (which plastisol inks inks). Again, the clue is in the name, if you need a little help remembering the difference.
Do the inks work differently on fabric?
Yes, they definitely do. The process of applying the inks to garments, and the finished look and feel both differ greatly.
For water-based inks, rather than sitting on top of the garment, the ink soaks into the fibres and dyes the garment directly. This means that from a touch perspective, it gives a more seamless transition from non-printed and printed areas. This can leave a vintage-style effect, as the print almost becomes part of the garment itself – giving that retro, aged appearance. Water-based inks generally tend to work better on light colour garments too. The colours don't tend to soak in as well on darker garments, and the prints may not stand out well enough against dark colours.
Plastisol Inks In contrast, give wonderful colour consistency and PANTONE accuracy – even on darker garments and darker fabrics. This is because the inks sit atop of the garment, rather than soaked into it. The design sits on the fabric, like a sticker on a piece of paper – so the colours don't get lost or diluted in the dying process.
Plastisol inks are also easy to work with, and generally don't tend to dry out either – which makes them easier to work with (especially for screen printing).
Eco-friendly and the environment
One of the biggest differences many people assume there is, is how environmentally friendly the two inks are, and how they perform for the environment.
Because they don't contain plastics or PVC, water-based inks tend to be argued as more eco-friendly, but that doesn't mean one is ink is necessarily better than the other. Both inks actually rely on plastic resins or binders, pigments, fillers and various chemical additives.
Plastisol inks, although containing plastic, do offer more longevity than water-based inks, which count in their favour for sustainability and reducing waste. If your print last longer, for example, you may be less likely to need another shirt quite as quickly. So as you can see, there are positives and negatives to both inks when it's in the context of being environmentally friendly.