With the temperatures dropping and summer fast becoming a distant memory, If you're organised, the vests, shorts and flip flops are getting pushed to the back of the wardrobe, replaced by those wooly jumpers, hooded coats and extra thick socks. But wait! There's something else that you'll be needing next month: Your pink printed T-Shirt.
October is national breast cancer awareness month, an event that has become increasingly importing in raising the vital funds that are needed for live-saving research. On October 20th we wouldn't be surprised if you woke up to see a sea of pink outside your window. It was the official Wear it Pink day.
Since 2002, Breast Cancer Now's Wear it Pink day has inspired thousands of communities, schools, celebrities and workplaces to don their pinkest attire. In the last 15 years this project has raised a staggering £30million that has contributed to improving techniques in preventing, detecting and treating breast cancer. This simple idea that's easy to take part in is essential in pushing our medical field forward and helping save lives.Get in Touch!
WHY IT'S NEEDED:
This year alone an estimated 50,000 women will be diagnosed with breast cancer and sadly, an estimated 11,500 of those women will not survive. Statistics suggest that around 1 in 8 women will develop this type of cancer during their lifetime, making breast cancer the most common cancer among women worldwide. Breast Cancer Now are dedicated to combating this, doing everything they can to kick this devastating illness's butt. They have a clear aim. An aim that could help benefit millions: to ensure that by 2050, every woman who develops breast cancer lives. In order to meet this target, the charity is supporting nearly 400 of the UK's best researchers who are working non-stop to improve prevention, treatment and the overall lives of those affected. Of course, to achieve this a lot of investment is needed. The Wear it Pink campaign is essential in raising the £300 million needed to beat breast cancer.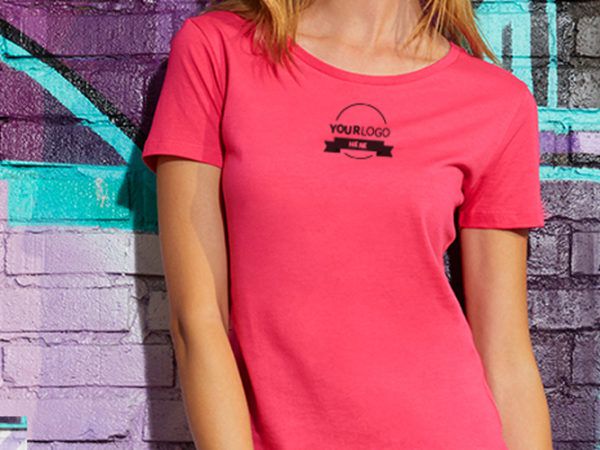 WHAT YOU CAN DO!
October 20th was your chance to get involved. We hope you wore your pink clothing with pride, after all, what's not to love? It's not only the perfect opportunity to raise money for a good cause, but it's also great for team spirit, having fun and feeling part of something big.
Hang on. Whereas for those pink lovers, this may sound all too easy surely, for those of you who hate the colour, it might be a completely different story. Well, don't worry, whether you're the kind of person who has a pink painted kitchen with a matching pink kettle or someone who vomits at the sight of a tiny pink eraser, we've got the solution for you.
Garment Printing is here to help.
Introducing Garment Printing's pink product scale. We'll take you through a journey from the minimalist pink product and build up all the way to the in your face, can't escape, pink is life attire. With our scale, there's no excuse not to get involved.
1. BLOSSOM WHITE: THE TOTE BAG:
The personalised tote bag. If you want to subtly show your support while maintaining your style, this is the perfect choice. One of the best things about tote bags? They're awesome for printing on. This means how pink you want it to be is up to you. Whether you want to go for a minimalist pink square or al all over bright pink dye, tote bags are perfect. Not only that, but they're pretty on trend too. Go to any of Europe's trendiest cities and you're bound to see the hipsters sporting this style of bag, showing their carefree I-woke-up-like-this nature. oh, and for the cost conscious ones among you, they're also incredibly cheap.
2. FUCHSIA: THE HOODIE:
Similar to the printed T-Shirt, the hoodie is another great idea for those who aren't afraid to change their style for a good cause. Like the printed T-Shirt, a personalised hoodie can be designed in a variety of ways, meaning you again have the opportunity to make it as vibrant or as minimalist as you want. Again, it's also a great piece of clothing for businesses to use to create a unified experience on Wear it Pink day. However, unlike the T-Shirt it can't be covered up with a jacket. For those bosses who want to ensure their staff wear the hoodie at all times, we recommend an extra thick one.
3. BEIGE: THE CAP:
OK, so you want to take part in this awesome event, but there's that one person you see on the bus every morning that you want to impress. You don't want to seem like you're a pink fiend, but you do want to bask in the knowledge you're doing something incredibly good for society. Do you go for it and don the pink? What if you see them on the bus sporting a full-on pink outfit. Will they think you're heartless? Oh the dilemma! Here's where the personalised cap becomes a brilliant problem solver. The beauty of the pink cap is that while the removal of some other items of pink could get you arrested for public indecency, a hat is something that you can take off whenever you please. For the lazy ones, this is also a great cause to not wash your hair that day.
4. COTTON CANDY: THE PRINTED T-SHIRT:
An obvious choice, the printed T-Shirt is a perfect way to get your prink out there and make people aware of the cause you're supporting. There's a lot of options available for you here. You may wish to go for a slightly pink T-Shirt with a printed slogan depicting the cause or you may wish to go for something more extreme. Try a dye sublimation T-Shirt for a more in your face pink look that ensures that all eyes are on you. This is a great idea for companies who have logos or uniforms. One of the fun things that comes out of Wear it Pink day is checking out the changing logos of well known brands. It's crazy how seeing a logo in a different colour can make you do a double take!
5. NEON PINK: THE ONESIE:
Lastly, we have the one type of attire that's like marmite, you either love it or hate it. We all have our own opinions when we see those people wearing a onesie at 11pm in the supermarket. Either you love it, or you hate it, or, if you're like me, you're jealous of their comfort. A bright pink onesie is the perfect way to make sure that everyone knows that you're supporting breast cancer awareness. Seeing a swarm of pink onesies taking the lift to your office is definitely going to be a showstopper! Not only that but it's a fun way of supporting the cause, having a laugh and sharing in your teams embarrassment!
So there you have it, 5 ways in which you can show your support this October to help raise breast cancer awareness.
For more information regarding any of the products mentioned in the above article, fill out the following contact form and a member of our sales team will be in contact within 15 minutes during working hours.