Corporate giveaways can be an ingenious method of strengthening your company's brand, attracting new customers and satisfying existing ones. After all, who doesn't love receiving something for free? Indeed, in many cultures around the world, giving gifts comprises an integral facet of any business transaction, while research shows that promotional products boost conversion rates by up to 30%.
Having said that, this kind of marketing is not exactly a new technique and giveaways such as pens, hats and keychains have become run of the mill. How can your business leverage innovative products to make it stand out from the crowd and create an impression that will last? The number one rule is practicality; hit upon promotional items that are useful and add value to people's lives, and they'll be much more likely to come away with a positive impression of your enterprise.
Corporate Giveaways
With that in mind, here are five suggestions of the best corporate giveaways for branding that will keep your company name fresh in the mind of prospective and existing customers alike, as well as providing a product that they can actually use in their day-to-day lives. Succeed in that objective and you'll be well on your way to establishing your enterprise as a household name which people will come to rely upon and trust.

1) Mugs
Okay, so printed mugs might be a classic choice when it comes to items for corporate giveaways, but there's a reason why these stalwarts of the scene are still going strong today. The UK is a nation of tea and coffee drinkers, meaning recipients of the gift are likely to get plenty of mileage out of it, possibly even on a daily basis. That kind of ad space is worth its weight in gold – and with the rise of the travel mug, there are even more options for branded merchandise.
2) Tote bags
With environmentalism such a burning issue right now, single-use plastic bags have fallen sharply out of fashion. Enter the humble tote bag, which has stepped into the breach and allows eco-friendly consumers the opportunity to make a small but significant adjustment to their routine which can have a real impact. By endorsing this lifestyle change and emblazoning your company logo upon it, you'll position yourself as socially responsible and eminently relevant in one fell swoop. As an added bonus, cloth bags are incredibly affordable to manufacture as well, meaning you won't have to invest too much before you begin to see a return.
3) Notebooks
Another classic, notebooks are another practical item that all busy people (especially those working in a corporate or office environment) can simply never have too many of. Whether they keep it on their office desk or carry it everywhere with them in their bag, a much-used notebook adorned with your logo or brand name is guaranteed to be a constant reminder of your presence. For extra emphasis, you could consider partnering up giveaway books with a free pen, although it's important to plump for a high-quality design that won't compromise your brand's integrity through substandard performance.
4) USB pens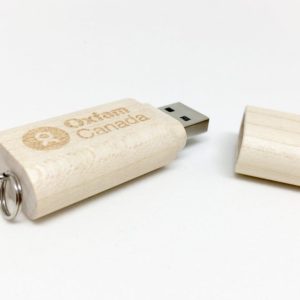 Given how big a role technology currently plays in all of our lives, embracing gizmos and gadgets in your promotional giveaway items comes highly recommended. There's no need to get too fancy – sophisticated hardware can soon become expensive – but the reliable USB pen is relatively cheap to manufacture, small enough to be easily pocketed by its recipient and exceptionally useful in the modern world when large amounts of information need to be stored quickly and easily. Despite its affordability, it's also perceived to be of fairly high value, reflecting well on your business as a whole.
5) Power banks
Another portable but highly practical corporate giveaway is a branded power bank. These can be especially effective at all-day conferences or multi-day events, when the constant demands placed upon technology through networking can deplete batteries in the blink of an eye. It's not uncommon to see a horde of execs searching for the nearest wall socket, so a well-placed power bank can be exactly the product they need at that time… and with your company's name printed on it, they're unlikely to forget you any time soon. For extra brownie points, charge the banks before distributing to create an even better first impression.