If you're not already employing promotional items in your marketing strategy, what are you waiting for? Research shows that adding giveaways and freebies adorned with your company name or logo can boost the effectiveness of your overall advertising campaign by as much as 44%… is that an advantage you can afford to do without?
Fortunately, there are a wide range of promotional items available to buy online. The rise of the online marketplace means that more and more people are favouring e-commerce websites over brick-and-mortar stores, preferring the ease and convenience of browsing and clicking to the effort and aggravation of visiting and purchasing in person. Of course, some traditionalists still favour the try-before-you-buy approach, especially with regard to clothing, but there are a whole host of products available to the online shopper that are perfect as promotional giveaways.
Buy Promotional Items Online
Here's a quick rundown of our suggestions of the best promo items to buy online. Each of them is fully customisable to include a name, logo or design of your choosing, offering optimum flexibility and convenience when it comes to choosing an item that's right for your brand's ethos.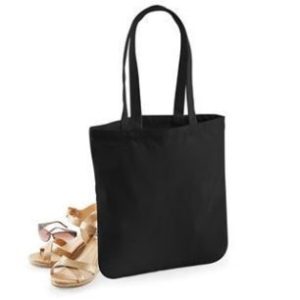 1) Tote Bag
In an age when consumers are becoming increasingly concerned about their own carbon footprint and that of the companies they favour with their custom, it's important to demonstrate your green credentials. A tote bag bearing your company's name not only allows the recipient to dispense with plastic bags – a huge contributor to global waste – but also shows that you're passionate about the environment, as well. As if that wasn't enough of a selling point, the bags are also cheap to manufacture and easy to store.
2) Water bottles
Another environmentally-minded product, a reusable water bottle is fast becoming the must-have addition for any eco-friendly consumer worth their salt. Given how useful it is, it's one giveaway that is unlikely to be thrown away and again, it will underline how your company is contributing towards tackling the huge problem of plastic pollution. The effect that sort of positive publicity can have on your brand image is one that should not be underestimated.
3) Travel mugs
In the same vein, travel mugs are another highly attractive product for environmentally-conscious individuals. Specialists at keeping hot beverages at the desired temperature on-the-go, travel mugs can often be used to obtain a discount at coffee shops which reward such sustainable behaviour with cheaper drinks. Meanwhile, their stay-at-home counterparts are a tried and tested stalwart of the promotional item scene and can also be easily obtained online.
4) Coasters
Speaking of hot beverages, scalding cups of tea and coffee also need a place to sit on a desk which won't damage its surface, so an abundant supply of coasters is always welcome, too. Anyone who keeps a stack of coasters featuring your company's name and logo around the home or office will be sure to take notice of your brand, whether they realise they're doing so or not. Available at the click of a button, coasters can be customised with your own image or design and mailed cheaply to your address.

5) Notebooks
Never underestimate the resilience of the good, old-fashioned pen and paper. Digitalisation may mean that Smartphones and laptops are increasingly ubiquitous everywhere you turn, but for quick and on-the-go note-taking, a notebook can't be beaten. Distribute personalised ones among your customer base and prospective client list and enjoy free publicity every time a bright idea pops into their heads and they need to record it for posterity.
6) USB pens
While there is definitely still a place for traditional office stationery among the best promotional items for businesses, the onward march of technology should not be ignored altogether. Small, light and incredibly useful, USB pens make superb giveaways to help spread your brand's appeal. External storage is always welcome for those who work with computers on a daily basis, which means that branded USB sticks can serve a valuable purpose and build your outreach at the same time.
7) Power banks
Alongside external storage, portable batteries are another highly sought-after commodity for tech heads and those addicted to their Smartphones. Recipients of a branded power bank are sure to be appreciative of your company's help in keeping their devices alive while on the move, while you'll also gain some additional exposure whenever they display the item in a public area.
8) Laptop covers
Laptop covers are one of those items that many people would happily use, but are not so enamoured with that they're prepared to buy one. This is where a promotional laptop cover can come into its own; by satisfying a need that they weren't even fully aware they had, you'll keep recipients of the gift happy, while they'll also do your job for by parading your brand name wherever they take their device.