So, what makes personalised socks such a useful product you may ask? Well, there's a handful of occasions which highlight their practicality. Here are just some of them: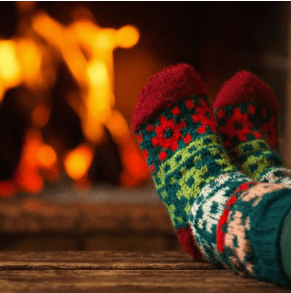 As a personalised gift:
Given the convenience and cost-effectiveness of buying online, it's becoming harder than ever to give friends and loved ones a gift that really resonates and shows a personal touch. With that in mind, designing and creating a bespoke pair of socks for friends, family or colleagues can be a great way of showing you care, speaking from the heart or just having a laugh. One thing is for sure – every time they wear them, they're sure to think of the person who gifted them the socks.
Please note, that we can only offer 150 units of the same design. We cannot create individually personalised socks for each member of your family.
As a team identifier:
In general, even amateur sports teams wear matching kits to differentiate themselves from the opposing players and to generate a sense of unity among members. While some clubs might only opt for a branded tee-shirt or perhaps a pair of matching shorts, going all out with customised socks can really create a more complete and professional impression, which can sometimes make the all-important difference between a victory and a loss.
As a business promoter:
Have you ever considered the marketing power of selling personalised socks? Well, it's time you did. An elegant design, coupled with a classy but eye-catching display of your company's name and logo, can make promotional socks a welcome addition to any wardrobe, leaving very satisfied customers! What's more, you can also benefit from enhanced brand exposure every time they wear them in public. With various lengths available, socks can be generalised for a range of companies – from sportswear to office wear, no one will be left disappointed.
A wealth of options:
Thanks to our extensive experience in the customisable clothing industry, we at Garment Printing are able to cater to the needs of any situation or circumstance when creating a pair of incredible-looking, long-lasting customised socks. There are plenty of styles to choose from, including sneaker socks, standard sports socks, thermal socks and cotton city socks, meaning you're guaranteed to find the material and the medium that's right for your purpose.
We're also committed to guaranteeing the quality, longevity and sustainability of our personalised clothing, which is why we only work with reputable companies when sourcing the raw materials for our socks.
You can order through us directly, either by phone or email. We aim to respond to all inquiries (including quote requests) within 15 minutes during working hours and we'll endeavour to ensure you're fully satisfied with the product at every stage of the process.