With the ongoing digital revolution, more and more of our business and personal transactions are taking place online – and marketing trends are following suit. Indeed, it seems you can hardly turn around on the web these days without coming across a banner ad, pop-up window or suggested purchase, as businesses from all industries clamour for attention. Despite this migration to cyberspace, that doesn't mean the old-fashioned methods of marketing should fall completely by the wayside.
Promotional giveaways are a perfect case in point. There are countless studies which demonstrate that using freebies to boost your company's profile is a consistently successful sales technique; just this year, research from the Advertising Specialty Institute found consumers are 2.5 times more likely to reflect favourably on a company which gave them a freebie than one which merely used internet advertising. As far as promotional items go, pens and mugs are two of the oldest and most trusted options in the game – but which is better?
Pens or Mugs
Both products are ones that are likely to be in high demand by their owners every day, ticking the usefulness box straight off the bat. Both are also relatively affordable to manufacture, small enough to be easily portable and offers great visibility during use, enhancing their appeal from a corporate giveaway perspective. But does one enjoy an advantage over the other? Read on to find out.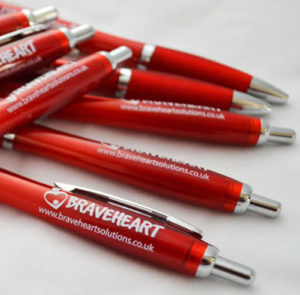 The case for pens
Perhaps the original corporate giveaway, pens have been around since the dawn of promotional freebies. Despite the aforementioned migration to paperless communication, the pen proves it's still mightier than the cyber-sword given the ongoing boom of the stationery industry. Besides being a generally therapeutic method of writing, the old-fashioned method of pen and ink has also enjoyed an uplift in the wake of environmental concerns over the excessive energy consumption of technological gizmos and a general penchant for all things retro.
As such, a quality pen emblazoned with the name, logo and slogan of your company is just as an effective marketing tool as it ever was. It's constantly in demand but afforded only modest importance as a possession, meaning that people frequently lose or misplace pens without batting an eyelid… but whoever picks one up is likely to use it themselves. This kind of daisy chain marketing is incredibly difficult to achieve via other methods or even through other promotional items, making the disposability of pens one of their key selling points.

The case for mugs
On the other hand, mugs can also lay a genuine claim to being one of the stalwarts of the promotional item scene and boast similar attributes in terms of usefulness, longevity and portability. What's more, branded mugs have been proven to be more effective at communicating a message to consumers than both TV and radio. According to a recent study, 57% of respondents stated they could recall the name printed on a mug, as opposed to 32% from radio and just 28% from TV. Any medium which can outperform TV and radio is well worth having on board, especially when it comes at a fraction of the price.
Meanwhile, mugs are a versatile option for giveaways, as well. While the traditional ceramic variety might be the classic option, the increasing popularity of imbibing hot drinks on the go has led to a surge in the travel mug industry. This has also benefited from the increased awareness around environmental issues, since single-use coffee cups have fallen sharply out of fashion and travel mugs have swooped into pick up the shortfall. Offering existing clientele and prospective customers a free receptacle can help to position your company as an eco-conscious one which cares about the environment and its consumers.
The best of both worlds?
So what's the verdict? Well, both pens and mugs offer a plethora of individual advantages when it comes to promotional marketing campaigns, which little to choose between the pair. Available at different price points, both can be tailored to the specific situations in which they are likely to be distributed. Which begs the question, why choose at all? Why not hedge your bets, plump for both and double your returns in the long run?
In fact, grouping these items (and potentially others) into a promotional bundle can be an incredibly effective form of marketing, especially at large trade shows and other corporate events. These kinds of conferences are characterised by giveaways, and when everyone is throwing freebies at their audience, how can you make yourself stand out from the crowd? By giving away more, of course! A goodie bag branded with your company's name can offer recipients a selection of different products, at least one of which is surely going to appeal to their lifestyle and receive regular usage. As such, a promo bundle containing both pens and mugs could be the way forward when planning your corporate giveaway game plan.