Trade shows and corporate events can be a fantastic way to increase outreach, maximise brand exposure and attract new custom to your brand. However, they can pose challenges of their own; participating in a larger conference can risk being drowned out by the competition, while hosting your own event necessitates generating enough interest to get plenty of bodies through the door.
In order to make sure the event goes off without a hitch, it's important to publicise it as widely as possible. This involves using all channels of marketing available to you; from email missives to targeted social media campaigns, no stone should be left unturned when it comes to your online advertising strategy. However, that doesn't mean that traditional forms of marketing should be neglected, and promo bundles are a prime example of how the old methods are just as effective as the new ones.
Promo Bundles
A promo bundle, offered as a freebie for anyone buying a ticket to the event, is a great way to stimulate excitement around it and get people talking about your company. Here's a quick rundown of some of the reasons why incorporating promo bundles into your marketing strategy is an absolute must for anyone hosting an event in the near future.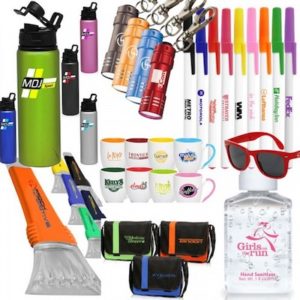 1) Ticket purchase boost
First and foremost, a business conference will live and die by the number of people it gets in the door. You can have the most incredible displays imaginable and the best products on Earth, but if no-one arrives to learn about or experience them, the event will surely go down as an abject failure. By offering attendees a goodie bag of promotional items with each ticket purchase, you'll incentivise them to commit to the occasion and boost attendance figures.
2) First impressions matter
As the saying goes, you'll never get a second chance at a first impression, and gifting your audience a bundle of items before they've even crossed the threshold of your event is the perfect way to get off on the right foot. When considering which items to include in the bundle, prioritise the practicality of your giveaways. The more useful an item is, the more likely the person will hang on to it for a prolonged period of time, strengthening their connection to your company and extending your brand exposure every time it is used in public.
3) Word of mouth buzz
Those who have already bought tickets are far more likely to recommend their friends, colleagues or other acquaintances do so as well if they have something to show for it. Again, this part hinges on what exactly you include in the bundle itself, but fill it with high-value (not necessarily high-cost) goods and just watch the buzz around your event catch fire. As such, it's an excellent method of boosting attendance figures at the event and enhancing preconceptions about your company before it's even kicked off.

4) Apparel is free advertising
A particularly effective ingredient in a promo bundle is any kind of clothing. From t shirts to hoodies and hats to tote bags, something that can be worn is the ideal kind of advertising that you need before, during and after the event itself. It might even be an idea to include a handwritten message inside the bundle, addressing the recipient by name, thanking them for their ticket purchase and encouraging them to wear the goods to the event. If they do so, you can enjoy expanded advertising at no extra cost.
5) After the fact
If you follow the advice laid out in point two above, you'll have stocked your goodie bag full of practical items that can be put to good use far into the future. This means that while the conference itself might be a one-off event, the marketing outreach possibilities it can engender will extend on an indefinite basis. Not only will attendees of the event see your brand and remember its name, but so will all who come into contact with the promo bundle's recipient weeks, months or even years after the fact.
As such, including promo bundles in the marketing campaign for your upcoming event should be one of the first ports of call when it comes to drafting the strategy you plan to follow. After all, studies show that the addition of promotional items alongside other marketing channels can enhance the effectiveness of the overall campaign by as much as 44%. Don't let that advantage slip away from you – investigate the multitude of possibilities contained within promo bundles for conferences as a priority before the event.