As if babies weren't already cute enough, clothing manufacturers have taken the adorability factor up to the next level with the baby grow. First invented in the 1950s by an Austrian-American named Walter Artzt, these utterly charming one-piece suits have been keeping babies comfortable, warm and impeccably stylish for well over half a decade.
Now, with the wonders of modern printing technology and the convenience of online shopping, you can even customise the design of your baby's outfit more than ever before with a personalised baby grow. By choosing the artwork, photograph, lettering or any other design you desire and emblazoning it across the onesie, you can rest assured that your little one will be the sharpest dressed rugrat in the playpen. Custom baby grows also make for incredible presents, allowing you the freedom to give a gift that is both thoughtful and tailored to the recipient, earning major brownie points from their parents in the process.
A short history of baby grows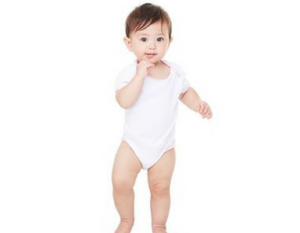 Compared with the wealth of options on offer today, infant clothing 200 years ago was a stiff and austere affair. Children were often dressed in trappings similar to those worn by their parents, meaning that toddlers and tots had to endure inelegant smocks with tight-fitting bodices, regardless of their sex or stylistic preferences. These attitudes gradually began to change during the 19th century, when (limited) colours began to infiltrate a baby's wardrobe and the unspoken rules surrounding the kind of clothing they were allowed to wear were relaxed.
However, it wasn't until the 1950s that the first onesie for babies surfaced. An Austrian-born entrepreneur named Walter Artzt came up with the idea after relocating to the USA and, aptly enough, he named his invention BabyGro, which remains a registered trademark in the States today. Early baby grows were merely functional affairs which allowed parents to dress their youngsters with the minimum of fuss and keep them warm while doing so, but the swinging sixties brought with them an appetite for greater fashion options.
So it was that a wide variety of different coloured baby grows became available, while the development of prenatal testing in the 1980s allowed those attending a baby shower to pick out a gift that was perceived to be more fitting for the gender in advance of the baby's birth. As the product evolved, people began to experiment with its design, adding ears, mittens and other accoutrements to the finished product. Now, the inception of customised clothing means that it's possible to adorn your baby's wardrobe with any desire that takes your fancy.
Why choose Garment Printing for your customised baby grow
With baby fashion reaching peak levels of adorability, it's high time you got in on the act and kitted out your own little nipper with a personalised baby grow. At Garment Printing, we're experts in creating fantastic finished products that combine top-quality materials with environmentally-friendly manufacturing methods to achieve an end result guaranteed to keep both the buyer and their baby incredibly happy with their purchase.
All our baby grows are made from 100% combed organic cotton, with incurs a 90% reduction in carbon emissions when compared to other forms of clothing manufacture. As such, you can feel like you're helping out Mother Earth even as you tend to the needs of your own offspring. In a society which so highly values sustainability and eco-friendly actions, this is one item which ticks all of the boxes in doing your bit to protect the environment.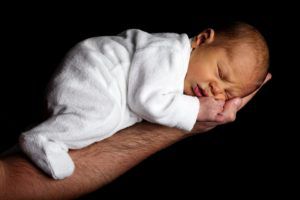 It's not just the planet you'll be caring for with this purchase, however. The non-synthetic fibres used in its production are the ideal material in which to swaddle the sensitive skin of new-born babes, meaning it won't cause any rashes or irritation. It's also incredibly soft to the touch and comes in five different pastel colours and a range of four sizes (0-3 months, 3-6 months, 6-12 months and 12-18 months), so there's bound to be a style and size which is a perfect fit for your baby's frame and unique sense of fashion.
Of course, that's before we even consider the personalisation of the product through our sophisticated printing techniques. Choosing from the front, back or across the shoulders, you can select a catchy phrase, cute photo or attractive piece of artwork and we'll ensure it's transferred onto the jumpsuit with impeccable precision. What's more, we also offer competitive pricing for such a high-quality product and a range of convenient delivery options, making the whole process mere child's play. What are you waiting for? Add a wow factor to your baby's wardrobe today!